Jawar Mohammed is Ethiopia's most influential political figure. Opponents should cooperate with the activist in democratizing Ethiopia's multinational federation, not demonize him.
O
n October 22, around midnight, an audio posted on Facebook reported a crisis unfolding in the Bole district of Addis Ababa, Ethiopia's capital. In the audio, a commander in the Ethiopian Federal Police was heard instructing the protective detail assigned to Jawar Mohammed, the Executive Director of the Oromia Media Network (OMN) and a renowned political activist, to vacate their post at their assigned subject's residence. The security detail who first answered the call refused to accept an order that came at midnight as unlawful. Another told the commander bluntly that they will not abandon Jawar to "nocturnal beasts", stressing that they are ready to pay the ultimate sacrifice. The incident in the Bole district soon became a conflagration that, according to official estimates, claimed the lives of at least 86 people in the Oromia region.
Five years earlier, a social movement now widely known as the Oromo Protests erupted in the Oromia regional state. The protest started as a resistance against land seizure but it was quickly transformed into sustained opposition against the Ethiopian Peoples' Revolutionary Democratic Front (EPRDF) government's stranglehold on the political landscape, discrimination in allocating national resources, and the incessant use of violence to resolve political differences in Ethiopia. It lasted for almost four years, culminating in the fall of EPRDF's authoritarian regime and ushering in an era of democratic reform. The movement catapulted Jawar Mohammed to prominence as a leading political figure in Ethiopia's history.
In August 2018, Jawar moved to Ethiopia to participate in the democratization process. Since then, he has been subjected to incessant political attacks. Documentaries, speeches, TV shows, radio programs, social media posts and character assassinations were used to denounce, discredit and debilitate him as a political actor. More recently, the campaign has become increasingly vitriolic, portraying Jawar as a devil incarnate whose reason for existence is the destruction of Ethiopia. The incendiary rhetoric reached a crescendo last week when Jawar was presented as the instigator of mayhem who should be charged with murder. The campaign is so pervasive that some media routinely describe Jawar as "a radical Oromo nationalist" and even The Guardian spoke of him as a "polarising figure … fomenting ethnic divisions."
Breaking an electoral suicide pact
Ethiopia's bitterly opposed political factions needs to build trust rather than rush into potentially divisive elections next year.
For his friends and millions of his supporters, Jawar Mohammed is a political activist who led a sophisticated social movement that toppled one of the most repressive regimes in Africa and ushered in an era of democratic change in Ethiopia. They view him as a brilliant political strategist who has given his young life to the cause of improving the lives of millions. They appreciate his devotion to promoting the cause of the Oromo people, but they also understand that he works assiduously for the near universal values of equality, liberty, justice and dignity for all Ethiopians. In their view, there is nothing in Jawar's record that leads to the conclusion that he is an agent of mayhem and destruction.
In this short piece, I offer an account that refutes the image projected by his political enemies. My account is admittedly a friend's testimonial. But it isn't a sycophantic defense that has no objectivity. I have known Jawar for more than a decade and worked with him on several intellectual, political and community projects.  I know him as a diligent and dedicated agent of positive change who contributed more than anyone else to making possible the ongoing transformation in Ethiopia. It is impossible to win the hearts and mind of the Oromo people by sidestepping Jawar—a fact Prime Minister Abiy Ahmed would do well to note.
The unremitting demonization of a dedicated political activist works at cross purposes with the very goal of uniting Ethiopia that many of Jawar's detractors hope to achieve. His enormous influence and political acumen is essential to stabilizing the country that now needs it the most. If the urgent need in Ethiopia at this moment is indeed to bring decorum to political competition and stability to the country, the more pragmatic course of action is cooperation with Jawar Mohammed, not confrontation.
Activism, a matter of character  
A person's character is shaped by minor, often uneventful, experiences in one's life. Jawar Mohammed is no exception. One of the labels hurled at Jawar is that he is a Muslim fanatic whose goal is to establish an Islamic state in Ethiopia. Born in the small town of Dhummugaa in the Arsi region, Jawar grew learning the importance of religious toleration. For him, it all began at home as a son of a Muslim father and Orthodox Christian mother. That he grew up as a Muslim did not prevent him from choosing a Protestant Christian as a wife and mother of his child. These experiences have instilled in Jawar his now deeply-held belief that there is no social divide that cannot be bridged through negotiations. His rapid rise to prominence is not because of his alleged Islamist predisposition. It is the result of imagination, hard work, perseverance, resilience and a determination to achieve.
Raised in his early years by his grandfather, who is a fascinating Oromo sage, Jawar's character was shaped in the crucible of his grandfather's libertarian penchant and his father's sacrifice in the Oromo nationalist resistance movement. A champion of individual freedom from the depredations of the state, his grandfather inculcated in him deep suspicion for unlimited power. His community instilled in him appreciation of Oromo indigenous history, culture, law and social organization. His father's generation's history of struggle, which he learned primarily from the legendary Oromo nationalist guerilla fighter and leader, Abdulkarim Ibrahim Hamid, popularly known as Jarra Abba Gadaa, made him aware of the depth of brutality of the imperial regime and the importance of solidarity with similarly oppressed people. Like many Oromo nationalists, Jawar Mohammed grew up in an Oromo nationalist family, imbibing valuable lessons about the inviolability of the nationalist cause. At the same time, the Oromo egalitarian ethos imparted in him the belief that advocacy for Oromo human rights makes a positive contribution to creating an Ethiopia that respects the rights of all its citizens.
Federalist façade for centralist front
Despite TPLF probing, an incoherent EPRDF staggers on. More jostling looks likely, as the Prime Minister tries to cobble together a centrist alliance.
His formal education distinguishes Jawar from his peer activists because his inimitable purpose for pursuing education. He sought college education expressly to learn about social and political change and then use his knowledge to improve the human condition. After attending elementary and secondary schools in Ethiopia, he completed high school at the United World College of South East Asia in Singapore, graduating in 2005.  In Southeast Asia, where he traveled extensively, he discovered his own values and developed an appreciation for human differences. In the United States, he received a degree in political science from Stanford University and graduate degree from Columbia University in human rights in 2013. At these institutions, he grounded his formative experiences in political theories and comparative politics, a combination that made him a politically engaged scholar whose life's purpose is to bring about positive change to peoples' lives, regardless of their ethnicity.
In all of his achievements, he had only his industriousness and his perspicacious mind to rely on. Having left his parents' home when he was only teenager, he was all alone throughout his unique itinerary of life. He is a self-made man who never loses his strategic focus. He is driven by a determination to win any competition he finds himself in.  His difficult young life built a tough personality that now permeates his grown up character, which he deploys effectively against his opponents, whether an individual or a heavily armed regime. An intellectually sophisticated and impressively energetic scholar-activist, Jawar is a life force who has subjected private ambition in favor of a more valuable public service.
Hashtag Oromo Protest
On November 12, 2015, a peaceful demonstration in a small town in central Ethiopia touched off a historic protest movement which quickly became a conflagration in all of Oromia. The protests continued for four more years, spread to some parts of Ethiopia and culminated in the toppling of an authoritarian regime. The protests came to be known as Oromo protest and Jawar Mohammed's life is intertwined with it.
There are several reasons for this association. First, Jawar knew the trajectory of the protests when political analysts and interested observers expected that the uprising will be put down brutally in a short span of time. If he did not know exactly where the protests were going, he was aware that the moment offered a historic opportunity to bring about regime change in Ethiopia. In this regard, I offer an eye witness account to attest to Jawar's foresight and insight that enabled him to seize the moment.
In early December 2015, only three weeks into the Oromo protests, Jawar invited me to appear on the Oromia Media Network (OMN) to comment on the ongoing protests in Ethiopia. On December 4, he and I appeared on OMN together to explain in Afaan Oromoo the causes of the protest and demands of the protestors. The next day, we repeated it in Amharic.  I did not recognize the value of TV commentary on the movement convulsing the country at the time. I obliged out of respect for the idea that OMN could become as "the voice and ears of the Oromo people."
Jawar recognized early on social media's power
Apparently, Jawar was aware of the significant role television could play in sustaining a social movement. Beginning in 2013, he had worked tirelessly to create the OMN. The TV broadcast center was launched in Minneapolis on March 1, 2014, even though the requirements necessary for satellite TV were not in place.  It was nevertheless launched with a palpable sense of urgency eight months before the start of the Oromo protest. That OMN would be a resistance media was evident in Jawar's speech at the inauguration ceremony. He said:  "By launching this station, we have liberated Oromia's airwaves. We will now begin the work of brining that liberty down to the ground in Oromia." In retrospect, it is evident that Jawar had a plan for how the protest will be conducted and a strategic goal for how it will be concluded.
At the same time, he was assembling other tools to facilitate collective action against authoritarian rule. After we concluded the aforementioned TV appearance, Jawar said to me, with pride on his face and deep sense of satisfaction, "I have 100,000 Facebook followers. We will use this platform to lead a revolution. Thank God for Facebook." I replied: "that is a good thing," not quite aware of what Jawar was rhapsodizing about. I never expected that the social media platform could be harnessed to mobilize, organize and guide a social movement.  It seems Jawar recognized early on social media's power to collect information from volunteer "reporters" on the ground all over Oromia.  Images, written reports and audio recordings streamed into Jawar's laptop and hand held devices. He collated, crosschecked and verified the information and disseminated it back to Oromia using his Facebook account and via the OMN satellite.
The Oromo people rediscovered their unity
The broadcasts informed and mobilized the Oromo people for the struggle. The effect was momentous. The Oromo people rediscovered their unity as a nation and rallied around clearly articulated political demands. His Facebook posts and other social media distributions informed and organized the protestors on the ground for collective action. The dissemination of information and the operation of a clandestine protest organization rattled the EPRDF regime.
In late June 2016, Jawar's tech savvy activists hacked into the computers of the Ministry of Education and removed a national examination. Armed with this, Jawar demanded that the national exam date be extended for students in Oromia who, because of the protests, were unable to prepare for a national examination. Officials were caught off guard, eventually giving in to the demand.
More surprises were in store for the regime. On August 6, 2016, the resistance movement staged resistance demonstrations in over 200 urban centers in Oromia. It was an unprecedented feat because the Oromia-wide mobilization occurred without the knowledge of the intelligence and security services. At the end of the month, a well-organized market boycott closed down all businesses and government establishments in the entire Oromia region. The capital, Addis Ababa, was practically shut down, paralyzing commerce. It was clear the regime was no match for the resistance.
These events highlighted here as turning points in the Oromo Protests that lasted four years. Together, they exposed that the image of a leviathan that the regime had been cultivating for itself and its claim to unassailability and invincibility was in fact a mirage By the time of the tragedy at the Ireecha festival of 2016 and ensuing 5 Days of Rage encouraged by Jawar, it had become clear the regime was not just vulnerable but teetering on the edge of collapse.
Social media and social protest
Before the Oromo protest movement, perhaps with the exception of Egyptian activists during the Arab Spring and some in the Black Lives Matter movement, few people in the world understood the power of social media in helping social movements expand and strengthen themselves internally. Activists had little appreciation for the media's potential role in building connections, amplifying protest narratives and mobilizing participants and resources. Arguably, the Oromo Protests' greatest and most enduring innovation is the merger of social media with a social movement. And Jawar Mohammed is a leading architect of the merger of these two forces and the consequent revolution.
For the merger to succeed, an Oromo resistance institution for collective action was built (rebuilt) in Oromia, undetected by the reputedly effective Ethiopian security apparatus. This was the Oromo youth organization known as qeerroo. Many describe Jawar as the "father" of the qeerroo, suggesting he is the founder. Jawar himself never claimed the mantle of "father" of the qeerroo organization. Asked by a journalist whether he was the founder and leader of the qeerroo, one coordinator of the organization described Jawar's role as follows:
[Jawar] gives us political analyses and advice. … He can get access to information even from inside the government, which he shares with the Qeerroos. We evaluate it and then decide whether to act on it. …  The Qeerroos are like a football team. Jawar may be the goalkeeper – helping and advising – but we are the strikers.
Jawar agrees with this description. Asked whether he is indeed the "father" of the qeerroo movement by a Walta TV interviewer, he said, "I am a qeerroo brother. We grew up together." This suggests that Jawar helped in reorganizing a preexisting group and made it responsive to operation in the digital era. Whatever his precise role, his intimate relationship with the qeerroo organization is not subject to debate. By bringing social media and a social movement organization together, Jawar made incomparable contribution in bringing down the EPRDF regime and authoritarian rule in Ethiopia.
As such, qeerroo was a new kind of resistance movement that took advantage of new communication technologies and artistic expressions that transmitted culturally-coded resistance messages using the ingenuity of tech-savvy activists who creatively employed digital media to mobilize collective action in pursuit of strategic goals. Using the Internet to initiate and organize a broad spectrum of activities, including consumer boycotts, public protests, stay-at-home strikes and demonstrations, activists in the diaspora and the qeerroo on the ground created a transnational resistance movement. Significantly, Ethiopia's expansive intelligence and security apparatus was unable to detect and the powerful military was unable to stomp on. All of this was done through peaceful resistance that cost many young Oromo lives but spared many more lives of non-Oromo residents of Oromia.
Qeerroo in transition
Since his return to Ethiopia on August 6, 2018, Jawar had been holding back the qeerroo from putting undue pressure on the apparently reformist government of Prime Minister Abiy Ahmed. His goal was to ensure the success of Ethiopia's transition to democracy. However, there had been signs that the Oromo qeerroo were impatient with incumbent leadership. The qeerroo had clear and enduring demands: self-rule in the regions and shared rule at the federal level; equitable allocation of benefits of regional resources and growth; and defense of Oromo identity and culture. Under the incumbent, these demands were relegated to the backburner, if not abandoned completely. The prime minister's conduct in office and his newly-invented philosophy, Medemer, deepened the qeerroo's and presumably Jawar's suspicion that their revolution had been hijacked.
The frustration boiled over commencing in the wee hours of October 23, 2019. In the aftermath of the government's attempted removal of Jawar Mohammed's protective detail, the qeerroo once again took to the streets to protest what appears to be a politically motivated action orchestrated by the Ethiopian government against Jawar. The qeerroo came out to protect Jawar, their "comrade-in-arms." All over Oromia, in urban centers and rural areas, demonstrations were held, expressing outrage and exasperation. Angry crowds burned the Medemer book or tore down billboards advertising it, set fire to the prime minister's images and shouted slogans such as "Down, Down with Abiy Ahmed."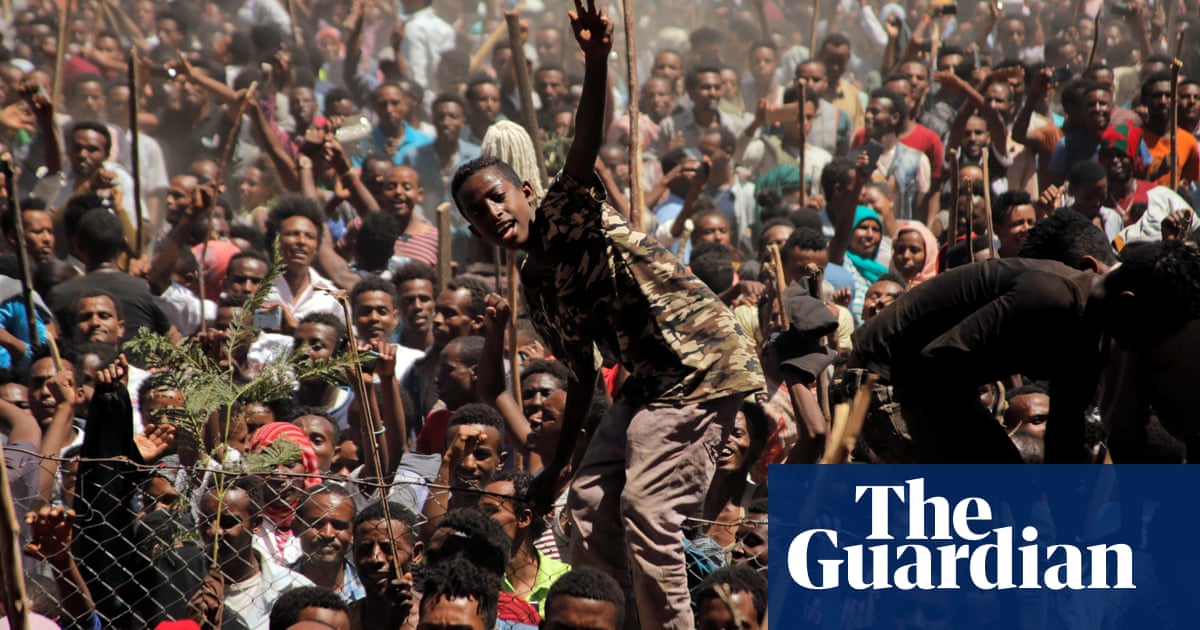 'Freedom!': the mysterious movement that brought Ethiopia to a standstill | Tom Gardner
Qeerroo – young Oromo activists – drove the mass strike that helped topple the prime minister of one of Africa's most autocratic governments
When Jawar spoke for the first time about incident, he told the protestors "to remove road blocks, clean their mess in the streets, bury the dead and go home." And they did.  Even so, his detractors are expressing indignation that the government has not apprehended and put him on trial for the death of innocent citizens. It is the topsy-turvy world of contemporary Ethiopian politics where there are calls for the victim to be brought to justice so that the criminals get away.
Notwithstanding the vitriol saturating the media, the qeerroo who returned to the streets are not irrational hooligans who would uncritically accept Jawar's orders and do his bidding without question. The recent qeerroo protest was spontaneous. It was triggered by the incident at Jawar's residence. Prior to this, however, coordinators in central and eastern Ethiopia had already announced that the qeerroo will hold demonstrations protesting against the government. The qeerroo have genuine demands, the unanswered old ones and newly created ones. As long as their demands remain unmet, they will come back to the streets. Judging by the prime minister's track record and his reaction to the death of hundreds last week (129 by some unofficial estimates), it is unlikely the qeerroo demands will be met anytime soon. Jawar is likely to continue urging restraint and qeerroo patience to give chance to democratic transition underway in the country.  But the time when even Jawar is no longer able to hold the qeerroo back is possibly coming to an end. 
Cooperation, not confrontation
Today, Jawar is the most influential political figure in Ethiopia.  His influence is rooted in his quick mind, deep erudition of social movements and political change, mastery of the use of the digital media and dogged pursuit of the goals he set for himself.  He collects enormous amounts of information through his Facebook account and network of contacts within and outside the government, processes it quickly, develops strategies and implements them quickly.  In addition, he uses his incomparable linguistic fluency, carefully constructed persona and uncanny ability to predict how political events may turn to lead his troops. A combination of his personality, the large amounts of data he receives and the wide reach of OMN makes him extremely influential and lethal to his enemies.
As far as I know, Jawar does not have a flair for outdoor games. What I know is that he enjoys playing "political games." That's his favorite "sport." And his singular focus on the game at hand is what made him the leader of the longest-running, sophisticated and successful social movement that overthrew a dictatorship through peaceful protests. In this regard, he has made history in Ethiopia and demonstrated to the world how social media and social movements could be synergized to work together in effecting political change.
How An Exiled Activist In Minnesota Helped Spur Big Political Changes In Ethiopia
Ethiopia's recent changes are due largely to an uprising by young men from the largest ethnic group, the Oromo. Their inspiration: Jawar Mohammed, who created a media network in exile in Minnesota.
As a leader in the Oromo Protest, Jawar Mohammed was demonstrably tenacious, even ruthless in his tactics when he is engaged in a cut throat competition. Once EPRDF decided to commit to reform and embark on a transition to democracy, Jawar changed his political stance from resistance leader to statesman. Upon his return to Ethiopia on August 6, 2018, he declared that the resistance had moved on to governance, and called for democratization, peacebuilding and equality of opportunity. In an interview, he stated:
"I do believe if we democratize the Ethiopian state – allowing people of all ethnicities to participate in the political process and to get a fair share of power and wealth – there is a possibility the next generation will be proud Oromo and proud Ethiopian at the same time. I think that is possible."
On another occasion, he added: "We fought for a democratic government, not for a popular government. We don't care who is going to rule this place, but that person has to have the consent our people expressed through the ballots."
These are not empty words uttered for political expediency but expressions of deep convictions and commitments. They testify to the fact that Jawar is a political pragmatist. He has been calling for a new social contract for the Ethiopian people since he arrived in Ethiopia in August 2018. When resistance flared up recently, he was the first public figure to call for calm and return to normalcy. No amount of defamation can render Jawar politically irrelevant. He is an indispensable political figure in contemporary Ethiopia. Ethiopian politicos will benefit from working with rather than confronting him.
Query or correction? Email us
This is the author's Viewpoint. However, Ethiopia Insight will correct clear factual errors.
Main photo: Jawar Mohammed with Prime Minister Abiy Ahmed, former Oromia president Lemma Megersa and former Foreign Minister Workneh Gebeyehu
Published under Creative Commons Attribution-NonCommercial 4.0 International licence. Cite Ethiopia Insight and link to this page if republished. 
Related Insight
October 19, Breaking an electoral suicide pact
August 18, Federalist façade for centralist front
July 24, Elections in End Times
March 29, Rival capital camps must face Finfinnee facts
February 27, Ethiopian elite lost in electoral maze under Abiy's gaze
We need your support to deliver news from across Ethiopia
Please help fund an Ethiopia Insight reporter